It's a valuable thing to work with who you want, on what you want, how you want, where you want, when you want, and to own what you work on. It's meaningful to have a quick but thoughtful answer to the question of why you want to work on what you do. If you have the freedom of what, where when, why, and how of your work…and earn enough to support yourself…bravo. This is the ultimate work freedom checklist. I may estimate that only 1% of the population get to do something like this and are able to sustain it. This is well beyond entrepreneurship. Many entrepreneurs I know can't work on exactly what they want to make ends meet, or if they do they lose the freedom to work when, how, and where they want…they are limited and they lose some of their original freedom entrepreneurial motivations. Other people that work in organizations have more who, what, where, when, why, and how freedom than the entrepreneurs.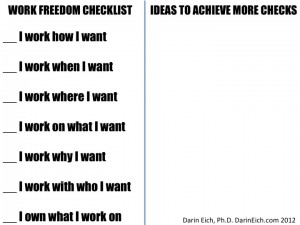 If you do want to complete that checklist you also may need to make some sacrifices. Generally this is financial. So the goal here is to be comfortable living simply, which is actually "richer" than living with many resources that you have to maintain, defend, and worry about. My happiest times of life included living in a tiny dorm room or sharing a hostel room traveling for weeks with just what I could carry on my back. So if you can wean yourself off of needing more maybe you can focus on working how, when, where, and on what you want.
I thought about this as I returned from a week in Peru and am about to journey on a 15 day adventure to Los Angeles, San Diego, and San Francisco. This trip is costing me very little since I'm using Frequent Flier miles at the lowest rate and staying with friends the whole time. My friends are also really innovative so I learn from them…it's like a professional development experience. As a bonus I get to escape the Wisconsin winter for a bit too. When I travel I'll be doing interesting meetings, events, sharing ideas and strategies with friends, as well as writing and designing new programs from coffee shops. This trip for me is a signal, example, and validator that I get to work how I want, when I want, where I want, and on what I want. It is valuable. What did you check on checklist? What couldn't you? If this is important for you, is there one aspect of the checklist you can work on? Start check-by-check with actionable ideas.