Do you want to create your own distinctive entrepreneurship or innovation event that helps people to team up and develop ideas they can start building and launching? Do you want to offer a high energy retreat from the norm where entrepreneurs and innovators can do what they do best? We can design, launch, and facilitate this together! Email [email protected] to start the conversation to build an event that people will remember, connect with, and be catalyzed into action.
Would you like to create a start-up, solve an important social problem, or build your next idea, fast? This is an innovation event to learn rapid concept development by doing it collaboratively in a group. We will create a fun environment full of creativity and networking. Learn by doing with others, working on the challenge of developing concepts for new products, services, initiatives, events, programs, or technologies that can be launched by you and your new team.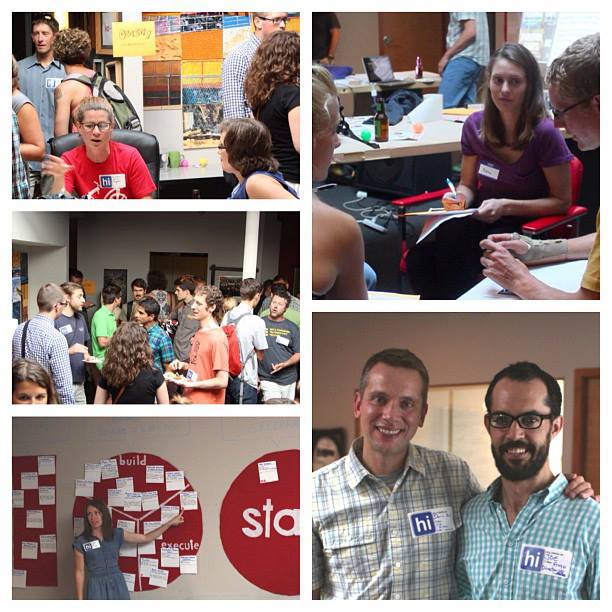 Here are the simple steps to make this event happen:
Design your environment. Maybe you want to run the event as part of a festival or other event that is already bringing people together. We may also want to find partners with similar interests, working toward a common goal. During the event itself, consider making it fun with free refreshments, fun music and time for socializing or networking.
Pick your challenge. Do you have a specific focus for the ideas you'd like your participants to generate? You could pick a specific challenge or challenges you'd like your teams to work on. We could also present your teams with a list of relevant challenges, or take suggestions from participants.
Assemble your teams. There are different ways we could group participants into different teams. You may want them to work with new people they meet at the event, or you could have them bring a team to the event. Working with new people can help make new connections, but working with established teams could increase long-term success.
Train the teams, and turn them loose. In this step, we will briefly inform teams of the step-by-step innovation process they will use, giving them an environment and tools to form concepts. After that, the bulk of the time will be used to generate ideas and develop concepts.
Pitch and share concepts. After teams have had time to develop one or more concepts, they can communicate and share their hard work. This could be through short presentations to the group, in an online video, or on concept sheets that are submitted in person or online. Consider adding prizes or financing to help the best ideas happen.  We can also give away other prizes.
Stay in action. We have a Program Innovation video program and Innovation Step-by-Step eBook that participants and teams can use to keep making progress and developing better ideas for new products, services, initiatives, and solutions to important programs. You can also set up mentoring or ongoing mastermind style meetings to keep the participants moving forward, learning, and taking action to be successful.
Go fast, connect with fellow entrepreneurial innovators, and develop a portfolio of concepts for something that can put to use at in our community. For an example of a hackathon-style event we ran, check out our Public Health Problem-Solving Soiree at 100state as part of the Forward Technology Festival.
This type of event is great for helping get potential media coverage for your community or challenge, as well. After our event, we had coverage from places such as the The Capital Times and Milwaukee Journal Sentinel. Remember: people like cool ideas, which is exactly what you'll be creating with your event. There are interesting retreats and weekend focused events out there to help people group up to build and launch new products and ideas. We can help you to create your own named distinctive event that you can do again and again to have an impact on innovation and entrepreneurship in your community with your people.
Email [email protected] to start the conversation to build an event!