This survey was sent in January 2012 to members of the National Clearinghouse for Leadership Programs. The purpose of this short survey was to get a sampling of the challenges leadership development professionals currently face, including the needs they have and the directions they would like to move in.
A. What are the biggest challenges you face as a leadership development professional?
1. *Getting collegiate men engaged in our program *Funding, of course *Holding on to outstanding, mobile young professionals
2. Financial support from my College. Opportunities for professional development.
3. Capturing students attention to participate in leadership offerings, especially those requiring a longer time commitment -resources -effectively marketing our programs and services, most effectively using social media
4. Broad definition of leadership across campus, budgetary challenges, the "professionalization" of leadership educators (not everyone can do this), assessing the "soft skills" of students and how to best move those "soft skills" to the forefront of academic discussions
5. Budget and Staff.
6. Time to focus on the "big issues" and creating stellar programs relating to those. The hurdles/politics that I have to jump through and the approval process make it a challenge to stay cutting edge.
7. Funding for my programs
8. Time. Students need to have the time to reflect but their busy schedules do not permit this reflection time. As a 'leadership development professional,' leadership is only one part of what I do. I would like to have the time to read about best practices, think about what people say or have said. But there is truly no time to do this.
9. Budgets, creating programming a year long leadership program that students stay committed to (we are finding that students want quick hits in programming but that doesn't always give us enough time to really dive into development of skills)
10. Staying up to date
11. Securing tangible support for leadership development programs
12. Finding qualified faculty, who are exemplary leaders, to promote and teach in the organizational leadership program.
13. I'm the only one who teaches all the leadership development–on top of being a student activities professional. So not a lot of manpower and the time commitment.
14. 1. Staff time – we really need a dedicated staff position to implement a comprehensive program. 2. Money – we can make due without, but it would be nice 3. Campus climate – ours doesn't value this type of programming
15. Locating/creating fresh workshop materials to teach the core competency areas. I get so bored with the same old stuff on time management, conflict resolution, listening, team building, ethics/values, etc.
16. Funding new programs. Delivering programs in new ways utilizing technology, especially video and the web.
17. Recruitment of students. Why is this important for them? And getting a time commitment students seem to be extremely overextended.
B. What are the biggest needs or challenges for your program or institution's leadership development offerings?
1. Need: *Collaborative spirit between academic & student affairs *Fewer turf battles all across campus
2. Financial support from my College. Ability to bring in outside resources.
3. Staff resources, especially time to provide the variety and quantity of offerings for our diverse student population -space
4. Monetary issues are our biggest challenge
5. We have been lucky in the past year to get space dedicated to Leadership Development but we are still grass roots operation looking for any resources we can find.
6. Budget and financing.
7. More professionals-demand is high and we cannot seem to keep up with staffing
8. A diverse set of offerings campus-wide that students are drawn to and want to participate in. Students love our offerings but want to 'check off the box' for other offerings as well.
9. Keeping students committed finding staff who want to work outside of university hours to help with programming
10. Social change model
11. We need to have a recognized center for leadership development.
12. We currently only offer a curricular leadership development program giving students the option of an organizational leadership certificate or an Associate of Applied Business in organizational leadership. Both are offered through the School of Business. I think we need a co-curricular or interdisciplinary program to help all students develop leadership skills.
13. Getting students and faculty/staff to realize the need for leadership development. Many of our students still recognize that leadership is a position–not a process–and since they are in a leadership role, they don't need to invest themselves in growing. I also don't have a lot of faculty champions to encourage students.
14. Student buy in – we're trying to figure out how to get students to take a class that's not for credit.
15. Getting faculty buy-in. Too many faculty think our leadership program is just 'life skills' stuff, and so they don't encourage students to participate. It's the typical faculty perspective that they are the only ones who add value.
16. Implement and scale new programs or "experiences" that relate to very current leadership skills that are in demand and needed by society, namely innovation skills.
17. Budgetary restraints. Programming gets the majority of our office funds and leadership is lacking. Faculty support and buy in.
C. What directions are you considering moving in with your institution that could help your program be more effective with time, resources, or your purpose?
1. We are working on developing, testing, and instituting more formal assessment instruments to validate our students' learning
2. Seeking funding of intern, grants etc.
3. Partnering with community organizations as well as corporate sponsorship
4. Looking for more outside funding (doners, grants, etc)
5. Over the last year we made the decision to separate Leadership out into its own space/office. Removing it from the RSO office has also separated us from some resources but allows us to focus on new types of programs that focus on all students, not just the ones that are already RSO officers, etc. It is a change in purpose/mission but one that I feel is for the best. Eventually…
6. Refocusing our efforts on the foundation of character development.
7. Innovative partnerships to keep a funding stream
8. Shortening sessions. Making student engagement completely interactive when they meet face to face. Using technology to expand opportunities to discuss various topics with students and appeal to different types of learners.
9. Collaborating with other offices to create leadership themes that several administrative areas will focus programming initiatives on
10. Leadership studies major
11. Looking for partnerships with our academic programs
12. We are linking the leadership critical thinking class with the honors program to build enrollment and offering leadership courses across campuses utilizing telecommunications equipment.
13. I offer 3 distinct multi-week programs each semester with the same curriculum each semester. I would like to start engaging in some speaker series (i.e., Women in Leadership) that I can sponsor without having to teach.
14. We are trying to move from a drop in workshop model to an ongoing class that can build on itself.
15. We just did a massive redesign of our programs, creating more synergy and harmony so we didn't have as much duplication of effort. We'll see how it works this year.
16. New models for staffing. Engaging professionals to work on key projects just a few hours a week. Utilizing software and new web tools like WordPress, YouTube, Prezi, Skitch, etc. to help us deliver various new and existing leadership programs.
17. Consistent programs and events related to leadership. Leadership 4 year experience model. Expanding budget.
D. What specifically does your program or institution need so much that you are willing to dedicate funding for it?
1. Scholarship monies!
2. Staff support for our international service learning program promotion, marketing, advertising
3. We have a few successful programs but they are very limited in scope. For example freshmen emerging leaders program, but that is only 40 students we need to focus on the bigger population for now before really focusing on "specific skill/theory" needs. IF that makes any sense.
4. Staff
5. We have dedicated funding for program costs and for speakers to the extent that we can manage and have dedicated funding for this.
6. A program for first year, second year and upperclass leader cohorts
7. Handbook for student leaders based on the Social Change Model
8. A student leadership conference
9. We need a Director of Leadership Development, Service Learning and Interdisciplinary Studies.
10. My program desperately needs additional staffing–even just student staff–to alleviate some of the time pressures on me.
11. Staff position
12. Opportunities for students to attend/present at student leadership conferences.
13. Staff to help develop and market new programs.
14. Retreat opportunities, speakers/presenters, supplies for activities, handouts etc. and research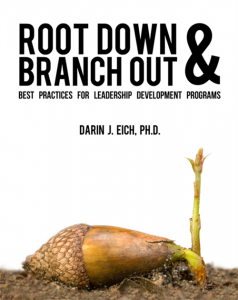 Visit DarinEich.com/book for premium resources from the book Root Down & Branch Out: Best Practices for Leadership Development Programs.
Let's network and sustain the innovation! Connect with Darin on social media for regular tips.