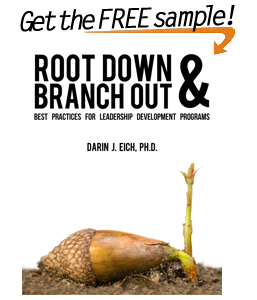 Root Down & Branch Out brings key findings to practice from a research study conducted to determine the most important characteristics of high quality leadership development programs. Darin interviewed over 60 program developers, educators and participants from high-impact leadership programs to uncover what mattered most for learning and leadership development. The Grounded Theory Model of High Quality Leadership Programs was developed to outline the best practices that positively contribute to students' learning and leadership development. This book uses real quotes to walk you through each cluster, attribute, action, and corresponding effect of the model. The tips in this book are ready to apply immediately to help you have a high-impact on learning and leadership development in your programs.
1. Buy the book on Amazon and 2. Sign up for ongoing book resources starting with a pdf sampler.

Premium Resources for Readers:
Leadership Program Best Practices Assessment Worksheet
Program Assessment Qualitative Interview Questions
Flipping The Leadership Program Article
Leadership Books For College Students List
Leadership Education Event Video
Innovation & Idea Development Worksheets (coming soon)
The Book At A Glance:

Innovation ready: Learn from and root down in the high-impact practices in action at universities – and branch out from them with ideas you can launch in your own program
Research based: Be more scientific and gain insights from a University of Wisconsin study of high quality leadership development programs in US higher education

Grounded in real stories: Understand what works through reading quotes from over sixty students and practitioners from different leadership programs

Ready to apply: Use the charts and tools to apply the model and best practices to your own setting, workshop, course, program, institution, initiative, or organization

Assessment friendly: Use the included assessment sheets for program evaluation, development, reflection, idea generation, and improvement

Current and growing: New resources, activities, tips, guides, videos, networks, and updates are becoming available regularly at DarinEich.com/Book
Do you need multiple copies of the book for a class or special program? Contact [email protected] to arrange for a quantity discount and shipment.