Group Facilitator Program

This Professional Facilitation Program is an online program for people who need to teach something or get results with a group. Workshops will introduce tools and techniques for facilitating group discussion and activities. Participants will engage in different types of facilitation and discussion and identify the challenges that they expect to face. This is relevant for both students and professionals. I show people how I do what I do in these workshops.
[ahm-pricing-table id=616 template="green" currency="$"]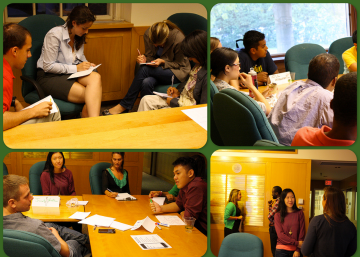 Outcomes – You Will Learn How To…
Better communicate & engage with your group.
Foster group relationships while accomplishing a task.
Use various specific tools to create an interactive session.
Design and lead a facilitation session.
Use Experiential Learning Cycles to guide participants to reflect.
Special Offer this Week: Buy the individual version of the program for yourself for only $87. We will email you a link for the page to access the 4 videos and materials within about 24 hours.
Included Group Facilitation Program Workshops
Workshop 1: Theories of Learning and Engagement for Group Facilitation
Workshop 2: The Group Facilitation Experience
Workshop 3: Group Facilitation Tools and Activities
Workshop 4: Facilitation Design
---
Interested in making this program more personal? This and other programs are available at a 50% discount combined with individual 1-on-1 coaching sessions by Darin Eich, Ph.D.  For more details, click here.