Facilitation Workshop | Design to Facilitate
Learn to design engaging and interactive presentations, meetings, classes, and workshops that you can facilitate more easily and with higher impact. Learn facilitation tools and group activities with our on-site facilitator training or group facilitation workshop program.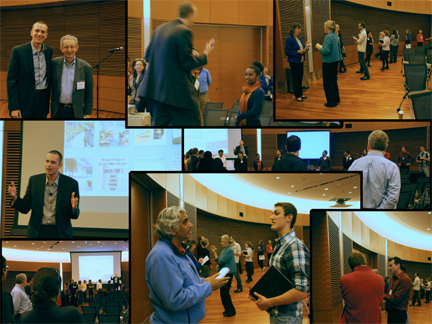 This topic area is great for people who need to teach something or get results with a group.
Email me at [email protected] to share more about what you are looking for and learn our recommendations or see samples of training workshops we've designed and facilitated.
Workshops will introduce tools and techniques for facilitating group discussion, collaboration, strategy, ideation, problem solving and other activities based on your purpose and needs. Participants will engage in different types of facilitation and discussion and identify the challenges that they expect to face. This is relevant for both students and professionals. I show people how I do what I do in these workshops.
Featured Program: Tools & Techniques for Facilitating Groups
How do you get a group to engage in activities, discuss leadership topics, and learn? Find out in this interactive program that we can do at your site or help you offer online.
Relevant Topics:
Tools & Techniques for Facilitating Groups
Facilitating Groups Part I: Facilitation Theory
Facilitating Groups Part II: Facilitation Techniques
Facilitating Groups Part III: Facilitation Tools
Facilitating Groups Part IV: Facilitation In Practice
Testimonials:

Here's what participants at our live facilitation events have had to say…
"I learned that doing helps me remember a much larger proportion than sitting and listening, which may explain why I've felt stagnation on improving my networking and presenting skills until now."
"Doing it is the best way to learn."
"I was able to quickly make connections with other people and was conscious of how the connections were being made, which gave me experience to know which tools were effective for me and which weren't."
"Practicing what we learned really solidified it in my mind and showed me where my weak points are."
"The fact that Dr. Eich used "show and tell", actually demonstrating the facilitation techniques on us first before explaining them was most effective."
"I will be role playing more often when I have to facilitate a group or discussion."
"I will be sharing the information with my business partner, to help him operate our company."
See dozens of deeper testimonials about our programs on our facilitator online training workshops bundle page or email us for more.
Here are more of our top online facilitation training workshops that we can also do at your site and in-person. 
The Innovative Facilitator: Innovate how you facilitate and respond to new challenges with creativity and innovation
Facilitation Tools & Techniques: Design a better workshop, class, event, or group session with our facilitator tools
Train the Trainer Facilitator Program: Get access to all of our online workshops and individualized coaching to help you design and facilitate your own training, workshop, or program.
---
Design more engaging and interactive trainings, presentations, meetings, classes, and workshops. Learn facilitative tools and group activities with our facilitation online program that you can do on your own or with your team or whole organization. Email me at [email protected] for more information on customizing or building a live program to suit your needs. These programs can be done live at your event, on your website, or even live online. Watch this video for an example of what our innovative training and leadership facilitation looks like.