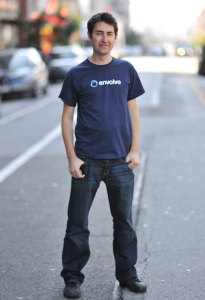 I'm chronicling the stories of determined entrepreneurs, innovative leaders, unique path creators, and friends. Last month was Rishi Shah and this month is James Tamplin, CEO and Co-Founder of Firebase.
I met James Tamplin when he was a student at the University of Wisconsin. I remember first meeting him through a mutual friend. He became one of our BrainReactions professional brainstormers. He had a British accent, a larger-than-life personality, and he improved the quality and quantity of his ideas at our brainstorming sessions for Fortune 500 companies by leaps and bounds. Based on the data we collected about his ideas, I think he may have actually improved by as much as 300%, which is remarkable.
James has great entrepreneurial passion. He started traveling the world to places like Australia and South East Asia after graduation from UW, and through an organic farming program, ended up in New Zealand. When he returned to the US, he partnered up with Andrew Lee, a friend of his from high school, to dive deep into the tech entrepreneurship world. Their first company was called Keep Security, which made a fingerprint sensor that plugged into your phone and acted as additional security when making credit card payments. Keep Security folded, and he then moved on to SendMeHome.com (later acquired by TrackItBack). During the time they were working on SendMeHome, I visited them in Santa Barbara and saw the life that James was leading.
What I saw firsthand was the moment that all great entrepreneurship stories have: the low moment. That moment where you are out of money. James had cashed in his Roth IRA to fund this endeavor, but they needed more money, so they started selling physical possessions like their additional computers. You learn a lot crashing on someone's couch. When I was sleeping on his couch I witnessed James and Andrew working around the clock. James was sleeping on a beanbag on the floor of Andrew's bedroom. He talked his way into a job teaching gymnastics to high schoolers – though he knew nothing about gymnastics.  When they needed even more money, James started eating a diet of cereal. I remember how appreciative he was when I treated him to In-N-Out burger!
Then, something exciting happened: PC World named their SendMeHome App as one of the top 100 products of 2009! I remember seeing it listed on the same page as Google Books, the Sony Playstation 3, and DropBox. This is exciting. This was downright inspirational. A couple of guys who I saw working out of a small room, sleeping on a beanbag and eating nothing but cereal can have an award winning product next mega corporations like Sony and Google. What a world! But these Santa Barbara moments wouldn't be the lowest or highest by a long stretch. They soon sold their SendMeHome company and were ready for the next adventure, the real highs and lows, and the real parts of the story worth telling.
Like many tech entrepreneurs, James and Andrew made their way to San Francisco. They were staying with relatives to begin with, creating something new again. This time, it was called Envolve, a very interesting app that allowed visitors on a website to chat with each other. You can see it in action at the bottom of Universal Records artists' websites like Ricky Martin. This little chat widget even translated for users who were speaking in different languages.  I was impressed with this particular innovation.
As with their previous project, this innovation story had its highs and lows.  James and Andrew went to Haiti to do a service project. James had gone before and told me stories of the work they did there. It was always eventful but nothing like what they would encounter in January of 2010. The time they were in Haiti was also the time of the earthquake. James told Andrew to come up to the roof of the hotel and watch the sunset.  Five minutes later, the earthquake hit. James leaped out of his building into a tree when he saw it happening. They were unharmed, and they continued to be of service in Haiti, doing things I could not imagine – finding people to see if they were alive, and if not, helping with body bags. There were stories ranging from leaving the Embassy to go to the streets to help people, sometimes serving as amateur doctors. It was something. (Read James' first-hand account of the Haitian earthquake in this note on Facebook.)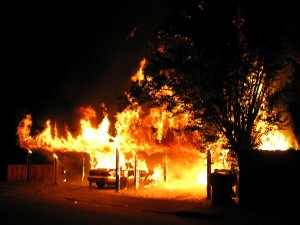 Later, James and Andrew were flown out of Haiti by a US Air Force cargo plane and headed back to San Francisco where they continued to work on Envolve.  They finally launched it to the world in July of 2010. As luck would have it, later that month someone threw a can of gas into the car they were sharing. Their garage and part of their house burned down. James was taken to the hospital with smoke inhalation. They were still operating on a shoestring so this – especially the hospital bill – was devastating. At this point I was staying in San Francisco for the winter so I could see with my own eyes how difficult a time period it was for James. But I also saw that he was as keenly focused as ever upon what he was passionate about and what his strengths were. I knew they would have success with Envolve. He and Andrew were too talented and most importantly, too determined.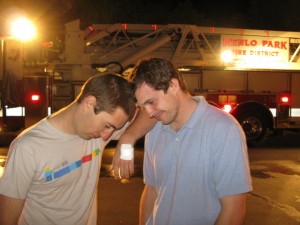 Shortly after the fire, they moved up from Menlo Park and into San Fransisco and started anew, building on the determined success they had. They got a proper office in an amazing building next to Mashable with views of the Bay Bridge and AT&T ballpark. I saw this my next visit to San Francisco the next year. Each time I visited in the winter they had taken significant steps in making their company substantial. On my most recent visit, they added a team of developers and were gaining hundreds of thousands of users at a rapid pace. They were then accepted to the prestigious Y-Combinator program in San Francisco and had the chance to share Envolve with people like Ashton Kutcher and learn from Al Gore and Mark Zuckerberg.

From Fire To Firebase: They continue their growth and patterns of innovation. They just launched Firebase, which I've recently read about in Wired and Forbes and has been described as the "Dropbox for apps." Read about this innovation because it has been gaining great momentum since their launch party and San Francisco developers are jumping on board, and in our technology-centric world, this is one group that you want to be on board.
James is creating his own path in his life. All paths that are worth journeying have both high and low moments. Looking back at the path is the way to understand. I have been always interested in observing how James is journeying. In the winter of 2009 I saw him building a company while in Santa Barbara sleeping on a beanbag, eating cereal, operating from a small room. In the winter of 2010 I saw him building a new company while recovering from the Haiti earthquake and about to encounter a fire. In the winter of 2011 I saw a boom and their office in SOMA San Francisco. In the winter of 2012 I saw James and his team about to launch Firebase and with a team of expert developers. It is helpful to check in each year at a certain point to assess your friend's journey and remind them of how far they have come.
Acquisition by Google!
A lot has happened the past couple of years for James and Firebase. Most importantly, after an arduous 6-month acquisition process with four potential acquirers vying for acquisition — while simultaneously talking to many venture capitalists about potential Series B financing — Firebase was acquired by Google in 2014.
Before the Google acquisition, Firebase had a team of 23. Since then, the team has grown by more than ten times! For two years now, James has served as the Product Manager for Firebase at Google.
But the Google acquisition didn't mean James has been taking it easy. On the contrary — the two years post-acquisition were just as intense as the six years pre-acquisition. If you were to visit James at Google in the past two years, you'd find him still grinding away on the product, and still focused on team culture. It's a testament to James' dedication, almost all of the original Firebase team is still with the team at Google. And today, Firebase is used by an impressive 750,000 developers.
There was a big expansion at Google I/O. As TechCrunch reported on May 18, 2016, Google turns Firebase into its unified platform for mobile developers. Read more about the acquisition that started it all in this October 21, 2014 Update: Google buys Firebase to Add Cloud-Computing Mobile Tools.
More links for learning the latest about Firebase and Google:
Congratulations to James Tamplin, Andrew Lee, the Firebase team, and Google for their remarkable progress year after year! Watch this video to see James in action and learn more about Firebase. This is James speaking at Google I/O 2016.