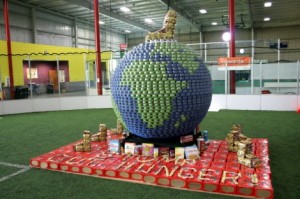 Leadership programs and courses are becoming popular in middle and high schools. So is character education and service learning, which is a great tool for teaching high school students leadership. Turning student creativity loose and letting them take real action in teams can be good for student learning and development. Here are some example high school student projects around the topic of hunger. 
Canstruction Madison
Twenty two teams competed to build structures out of food donated to the Middleton Outreach Ministry Food Pantry.  Teams consisted of student organizations, architect firms and design companies.  Over 1000 people came to see the canstructions, and in 2012, over 28 tons of food were donated.  Read a recap of the even here.

Can Creation Build
Student teams raised money on behalf of a local food bank.  The five teams who raised the most competed to build a structure out of canned goods.

Hunger Knows No Season Challenge
Students form competitive teams, campaigning through their neighborhoods in order to gather collections for a local food pantry.  The team that collects the most food wins a pizza party.
Share Our Strength's Great American Bake Sale
Culinary students picked some of their favorite recipes, baked them during class and sold the results as part of a nationwide anti-hunger effort.
Empty Bowls Project
Students created artistic bowls which were sold for $10 to community members, along with a simple meal of bread and soup.  Proceeds benefited a local food bank.