What is important in higher ed right now?

Recently, we have been working to really think about what is important in higher education right now.  For the last few months, we've been looking at various aspects of higher ed as we build our new site, UniversityWebinars.org, and one thing we've seen again and again is the importance of higher ed-focused blogs.  Everyone from students to college and university faculty look to blogs for the plethora of diverse and unique perspectives with which they write. Blogs help us to understand the present and see the future of higher education. It is a rapidly changing time for students, faculty, and staff as well as higher education innovators.
Saying that blogs are important is one thing, but understanding why is another.  With the overwhelming amount of information out there, someone needs to help separate the wheat from the chaff.  While we were able to find plenty of lists that recommended higher ed blogs for different reasons, we wanted to do the leg-work behind putting all the best – and current – blogs in one place.  So we did exactly that!
Methodology Explained
I explained our methodology in a previous post, but the basic idea is this: we took a list of 200+ higher ed blogs that were already recommended, added a few of our own picks, and then analyzed each of the blogs at various levels.  We looked at everything from relevance of content and connection with the community to uniqueness of perspective and more.  Once we had a refined list, we published that on UniversityWebinars.org.
After that, we took our shortlist and spent a lot of time really looking for the best gems among them.  My team and I took this information and voted on which blogs should make the cut.  Naturally, there were some disputes, which were solved with one-on-one conversations about the individual votes.
The result was this top 25 post, listing the best of the best in higher ed blogging over at UniversityWebinars.org.  But this isn't the end.  I want to take our work even farther to continue learning about what really matters in higher education.  After all, innovation wouldn't be innovation without constant learning!
So, what's next?
Well, there are really two things we would like to do for starters.
Communicate with bloggers to learn about what's changing in higher education.  To innovate and learn, you need to know where change is happening, as well as where there is room for change.  My team and I plan on spending time communicating with bloggers both on this top 25 list and on our extended shortlist to hear their voices and the voices of their readers.
Survey bloggers, students and higher education professionals.  We want to learn not only what is important to bloggers, what what is important to students learning in higher ed environments and higher ed professionals providing that content.
Once we communicate with bloggers and spend some time surveying students and higher ed professionals, we'll have a better idea of what next steps need to be taken in order to continue providing innovate resources and help university professionals not only adapt to the rapid pace of change in higher education, but leverage it.
---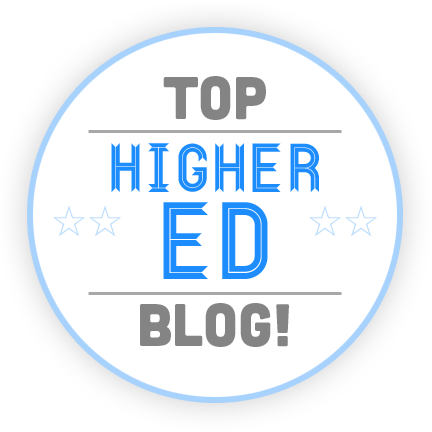 The Best of the Best in Higher Ed Blogging
You can also view the entire list of top higher education blogs here.