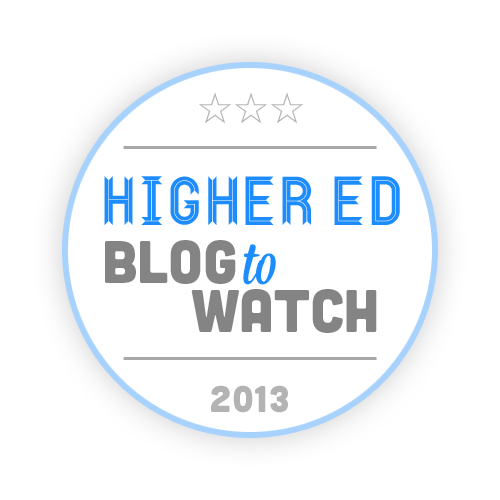 If you would like to improve or innovate within higher education, blogs and university video sites should be a source you turn to for ideas, news, and trends. You probably already read journals in your field (where articles are validated, but not very recent) and publications like the Chronicle of Higher Education.  For new ideas and nearly real-time news, follow twitter, linkedin, Facebook, and other social media sources. I like to read blogs, because they integrate a lot of social media and traditional publication news sources…plus they tend to be more creative, personal, and fun to read. Many times, the posts are short, summarizing, synthesizing and helpful if you want to innovate in higher education.
Our Method
In 2012, we began looking at higher ed blogs as a key resource.  In order to help separate the wheat from the chaff, we evaluated the blogs we came across, creating a list of the best ones.  The blogs we found cover a wide range of topics and perspectives, but our methodology stayed the same.  To create this list, we analyzed blogs at two different levels.
Level 1: We generated a list of over 200 higher ed blogs that we found already recommended by other sources.  With this list in hand, we reviewed each blog one at a time, noting the ones we would recommend.
Level 2: Our editors visited the recommended higher ed blogs, assessing them for content quality & quantity, post frequency, comment volume and engagement with the higher ed reader community.  They also looked a variety of other factors, including relevancy, helpfulness, insight, design, reputation and more.
Blogs can be a great source for current information, and much of the content is focused on helping you learn and adapt to the future of higher education.  Many of the blogs I follow share college and university trends, including tips, tools, techniques, personal experiences, and thoughts for improving how students are educated and how higher education institutions are operated. Give our list a look and let us know in the comments your favorites and if there is a higher ed blog you would like to suggest too.
Here's the list of top higher education blogs from UniversityWebinars.org.

Higher Ed Blogs for College Professionals