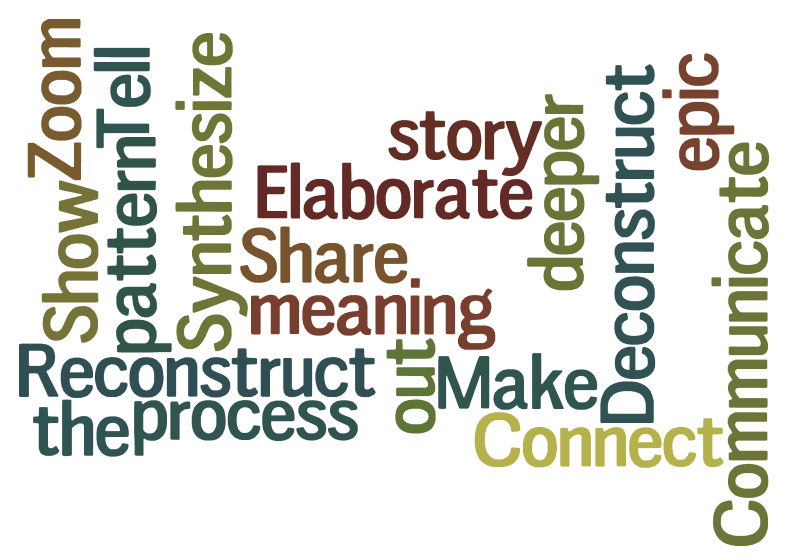 To create your own unique path in life, you must first take a look at the larger story of your life. Zoom out on those experiences you've had already in order to make meaning, understand, and move forward with your path. It is important to view the key themes of your life, where you've been, and where you'd like to go.
Earlier in the Create Your Path program and articles, we helped you to identify your own key path experiences. You can envision these experiences as building blocks that are just scattered on the ground right now. What is the story amongst some of these blocks? Is there an order, a sequence, or themes that tie these blocks together? Is there a metaphor to describe them in the context of your life as a whole? Once you've reflected on these experiences, you can put the pieces together and take an eagle-eye view of them. It is time to reconstruct. These are some important ways of thinking for this next stage of creating your path:
Go deeper.
Elaborate.
Communicate.
Find the story.
Share it. Tell it. Show it.
Connect the pieces.
Step back. Way back.
Zoom out.
See the trees. Now get up high, and see the forest.
See the pattern.
Synthesize. Make meaning.
Deconstruct. Reconstruct.
As humans, we love a good story. We've been telling them and listening to them for generations. You too can be a part of the collective – the historic, the epic. Find your story and tell it. You can do in the modern era what our ancestors have done around fires for generations. From your experiences, and stepping back to see the forest from the trees, you are connecting the stories to tell your big story….the story of who you are and the path you have created for yourself. Diving deep and stepping back helps you to learn about yourself. Who you have become and who you are…and where you can go. It helps you to teach others. Teach, learn, and story-tell so that others may understand or even be a part of your future path creating story.

This article is taken from the online video-based program Create Your Path. Sign up for a free sample workshop from the program here, see details on the full program at InnovateYourself.com, and see other programs, speeches, and more at DarinEich.com.