Do you need an interactive, engaging, and energetic professional speaker, facilitator, and program developer? Do you want an experienced and accomplished creative innovator who can relate to your group and teach through stories, metaphors, and activities that motivate people to take action? Be sure to view the workshops, keynote speeches, webinar, & conference session topics Darin can do for your event or group!
Dr. Darin Eich earned his Ph.D. in Educational Leadership & Policy Analysis from the University of Wisconsin. He has been a graduate student and developer of programs at the University of Maryland & William and Mary. Darin's passion involves helping people to become themselves, find and live their strengths, and become more creative, innovative & successful leaders. Professionally, Darin does projects ranging from hundreds of college speeches to helping institutions develop leadership programs & retreats to facilitating professional brainstorm innovation sessions for the most innovative Fortune 500 companies. He is the co-founder of an innovation generation company called BrainReactions and a college guidance organization called ThroughCollege. He began his career as a speaker and program developer for universities. Here are some of the colleges that have brought in Darin's programs and speeches: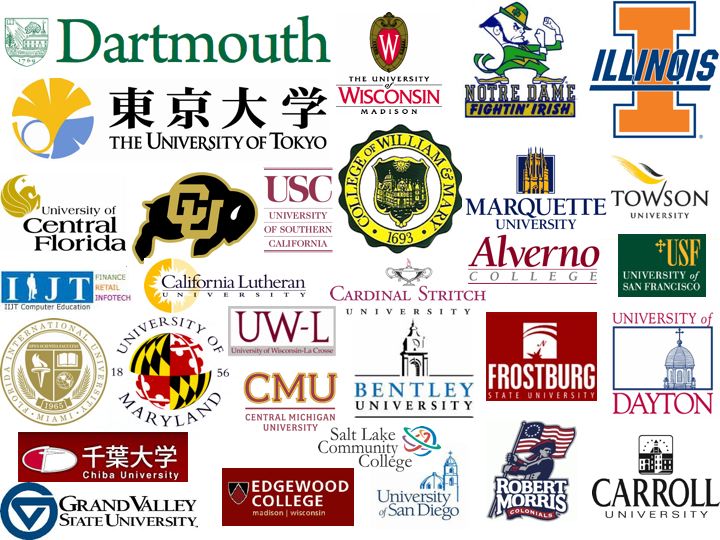 Darin is an innovation researcher and author and has blogs at InnovateYourself.com, InnovationLearning.org & ProgramInnovation.com as well as Innovation, Brainstorming, and Idea Communication training online workshop programs. Darin provides speaking, consulting, strategic planning, program development, creative facilitation, and seminars on topics including personal & group development, motivation, idea generating, creativity, innovation, entrepreneurship, and leadership. To start the conversation email darin (at) programinnovation.com. You can also tell Darin about your event through the form at the bottom of this page and he can email you what you need to plan your event ranging from clips to info sheets to articles to client testimonials!